30 Disney Hacks You Need to Know

Headed to DisneyWorld or Disneyland? These are 30 hacks you need to know to save you and you family time, money, and your sanity!
1. Kids under 3 don't need a ticket.
They also don't need a FastPass to skip the lines.
2. Buy Disney gift cards at Target, and use your REDcard to save 5% instantly.
Use gift cards in the parks to buy food, and souvenirs. Save 5% on all the things you need before your trip at Target when you use your REDcard.
3. Shop Costco for discounted tickets.
Costco has a travel section online and in-store with specials. They have a variety of deals and specials for Disneyland and Disney World including up to 25% off Disney Resort Hotels, $150 Disney bonus gift cards, and have special perks like memory photo packages included for free.
4. Go in the off-season, January or September.
Crowds and hotel prices are highest when kids are out of school and during the holidays. January and September are ideal months to visit — not just because the crowds are few, but also because of the mild weather in California and Florida.
5. Get a free button if you're celebrating a birthday, first Disney visit, or other special occasions.
Also, you're likely to get special perks just for wearing your button. For instance, on my nephew's birthday, he received a free cupcake when a cast member noticed his birthday badge. Staying at a Disney Resort hotel? You'll get a phone call from a character wishing you Happy Birthday.
6. Eat a sit-down meal at lunch instead of dinner.
Lunch menus are generally 15%+ cheaper for the same items that are served at dinner.
7. Planning a character meal? Do it at breakfast and save 35%.
The breakfast buffets are awesome, and if you fill up at breakfast, you'll save money by only needing a light lunch.
8. Split your meals.
Some Disney portions are huge. Tell your server you want to split the meal and they'll bring an extra plate or even split the meal for you before bringing it out – best part? There's no extra charge for that.
9. Bring in your own drinks, refillable water bottles, and snacks.
10. Don't buy bottled water.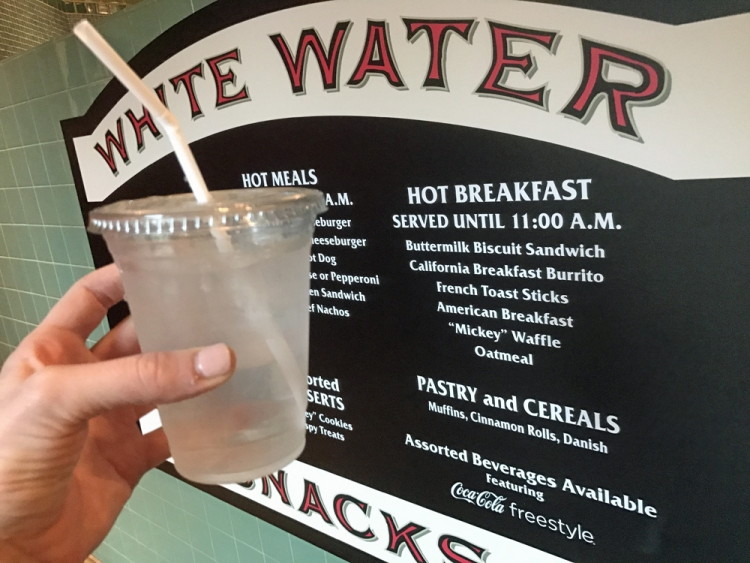 Get free water at any restaurant within the park. Just ask.
11. Save on stroller rentals by purchasing your rental online.
There's a discount for prepaid multi-day stroller rentals. Stroller rentals at Disney parks are $15 per day for single, or $31 for double. By purchasing online, your price drops to $13 per day single or $27 per day double.
12. Skip stroller rentals altogether by buying a cheap stroller online and having it sent to your hotel.
Consider a cheap umbrella-type stroller. They're lighter, easier to get on and off buses, and can easily maneuver through tight spaces in the park.
13. Attach an over-the-door organizer to a stroller to hold drinks.
Cheap, and a genius idea.
14. Avoid standing in line a second time with Disney's free Rider Switch service.
Have an infant or child in your party who can't ride an attraction? Ask the cast member supervising the ride if Rider Switch is available.
15. Set your alarm for 7 AM exactly 30 days before your trip for the best FastPass+ reservations at Disney World.
FastPass+ is your golden ticket to skipping those loooonng lines at Disney World. The best part is, it's free with your ticket purchase. You get access to 3 passes per day, and because everyone gets them, you do not want to wait until you get to the park to choose which rides to use them on.
If you're staying at a Disney resort, you can actually start reserving 60 days before your trip date. For all other ticket holders, the earliest you can book is 30 days ahead.
At exactly 7 AM EST, 30-60 days before your vacation, go to the Disney World FastPass+ site and make your 3 ride selections — do this for each ticket holder in your group.
16. Use your FastPass+ to skip lines around 12 PM.
The shortest line times are in the morning when the park is less crowded. So don't waste your line skips then; use them between 11 AM and 2 PM when it's the hottest time of day and when the park is most crowded.
17. Done with your 3 FastPass+ line skips? Reserve more in the park or via the app.
Once you've used up your initial 3 FastPass+ skips, head to a kiosk in the park and reserve more for that same day. You can only reserve one more at a time and only for rides in the park the kiosk is located in. If you need to modify your reservation, you can do so right in the free My Disney Experience app.
18. Set your lock screen to your FastPass+ schedule to save battery.
Download the free My Disney Experience app on your smartphone, and once you select your FastPass+ skips at Disney World, take a screenshot of your schedule and set the image as your lock screen. This way, you won't have to open the app every time you want to check your reservations.
The app is also useful for checking line times, dining reservations, and more.
19. Get Disneyland FastPasses for Indiana Jones and Space Mountain early in the morning.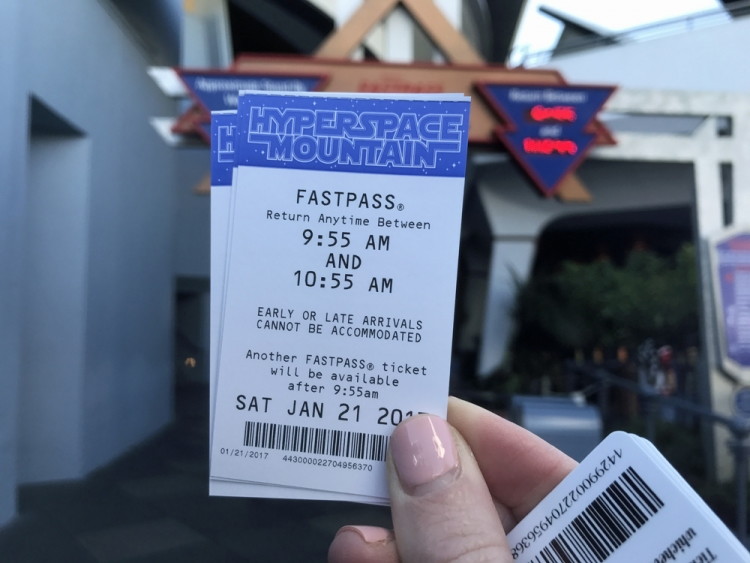 Get your passes as soon as you enter the park, and come back an hour or so later to ride. While you wait for your reservation window, take advantage of the short morning lines at the other rides nearby.
20. Hold multiple FastPasses when you reserve for "disconnected" attractions.
Some Disneyland FastPass machines operate on a disconnected system, which means the normal one-FastPass-at-a-time rule doesn't apply. You can get a FastPass for a "disconnected" ride or show and hold another valid FastPass a minute later.
21. Park hopping between California Adventure and Disneyland? Hold 2 FastPasses at the same time.
Generally, you can only hold one FastPass at a time and can't get another pass until your current FastPass time window begins. But Disneyland and California Adventure run off different FastPass systems, and it's super easy to hop between the two parks as long as you have a park hopper ticket.
Grab a FastPass for one of Disneyland's popular rides, then head to California Adventure and do the same right after.
22. Are you a Florida resident? Get a 3-Day Disney World pass for less than $50 a day.
Until June 9, 2017, Florida residents can score a 3-day Discover Disney pass for only $139 plus tax. That's less than $50 a day! A normal 3-day pass for non-residents costs $290.
You must show proof of Florida residency upon entering the park.
23. Let an authorized Disney vacation planner do all the deal hunting for you — for free.
Another way to score discounted Disney tickets is through a travel agency using an Authorized Disney Vacation Planner, like Let There Be Travel, a certified Disney Specialist.
They'll do all the deal searching for you, saving you time and money. Plus, it's free — Disney pays these agents a commission directly.
24. Stay at a Disney Resort hotel and get access to Magic Hours.
When you stay at a Disney Resort hotel at Disney World or Disneyland, you get access to up to four extra hours of park time.
At Disney World, the park is open an hour earlier and three hours later on select days for Disney Resort hotel guests. At Disneyland and California Adventure, Disney Resort guests can arrive an hour early on select days (aka Magic Mornings). Take advantage of these magic hours when the park is less crowded and the lines short!
25. Check if your hotel offers a shuttle service to the parks to avoid parking costs.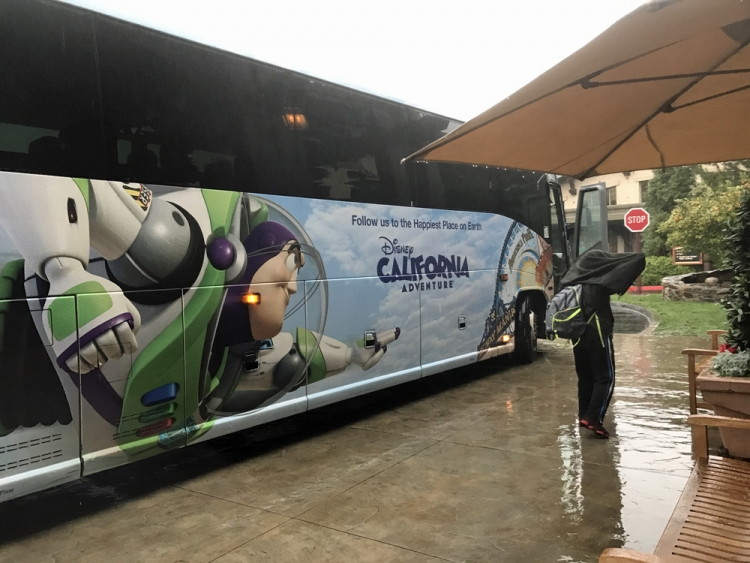 26. Make reservations at park restaurants to avoid long wait times.
You can make reservations up to 180 days prior to your trip. Plan your meals ahead, see menu prices, and make reservations now at Disney World and Disneyland.
27. Trade pins with any Disney cast member who's wearing a lanyard.
There are a few rules to this memorable (and totally free) activity like it must be a Disney pin, and pins must be in good condition.
28. Disney Visa cardholders save 10% on select dining and merchandise in the park.
Disney Visa cardholders with Chase bank save 10% on select merchandise purchases of $50 or more at Disney parks, resorts, and stores. If you have a Disney Visa, you also get access to exclusive character experiences within the park, dining discounts, special vacation financing, and more.
29. Only have special event tickets? Arrive at 4 PM to get 3 extra hours of park time.
Most special events at Disney parks — like Mickey's Not-So-Scary Halloween Party and Mickey's Very Merry Christmas Party — require separate park tickets and start at 7 PM.
Even though 7 PM is the start time, call ahead to see when you can actually enter the park. Most of the time, you're allowed to enter early, giving you extra time to enjoy the park!
30. Just going to Disneyland for one day? Go on a weekday and save about $10.
Regular 1-Day ticket prices for Disneyland (not including California Adventure) start at $105 if you go on a Friday, Saturday, or Sunday. Go on a weekday and get the Value Ticket price, which starts at just $95.
Value Tickets aren't available in the peak season, though. So plan ahead and go when they're available. See availability dates here.
We hope these hacks make your trip memorable! Have a hack? Let us know in the comments below!
PIN ME: